The Herald Journal asked if they could do a follow up story on Dallin now that he is back to Logan. It made the front page.
As always there are a few things that are a little off, but we were just so happy that they wanted to do this feature!
USU employee Dallin Wengert reflects on car accident that put him in coma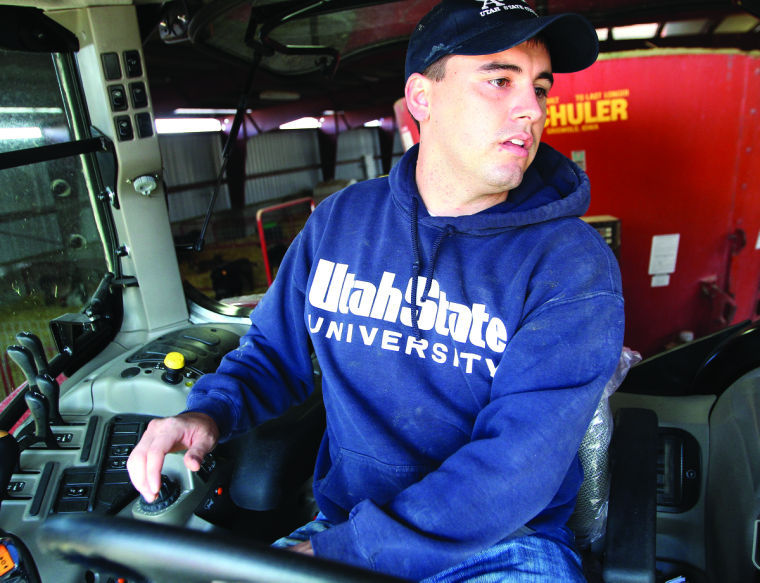 Almost a year ago, the hopes and dreams of a newly married couple expecting their first baby were dashed in an instant when Dallin Wengert made a left-hand turn in the path of an oncoming vehicle on U.S. Highway 89/91 in front the Utah State University sheep farm in Wellsville.
Dallin's wife, Amy, was driving in a separate car and watched in horror as Dallin's car was broadsided. He was flown to an Ogden hospital in a coma.
Amy said the first doctor who examined Dallin told her not to be hopeful that he would wake up. Over and over, he said the injury was "bad, bad, bad," she recalled.
The neurologist had a different opinion: He said he was "cautiously optimistic."
"Those words were the one thing that helped us hang on," Amy said.
Dallin did wake up, and in fact, he has made a nearly complete recovery.
He still has work to do, but in February, he and Amy were able to return home to Logan after spending months in an Arizona rehab center.
Dallin stayed in Ogden for two weeks — still in a very childlike state due to the brain injury. He had to relearn how to eat, walk and talk.
His family transferred him to a facility in Phoenix, where he spent several weeks in inpatient rehab before being released to continue therapy.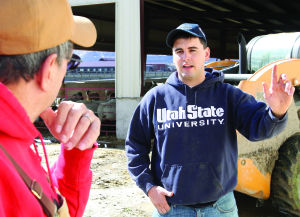 He stayed in a Phoenix hotel during the week and was in therapy for four days, all day, just like a full-time job. He learned how to brush his teeth, and the first time he was given shaving cream, he put it in his hair.
"The hardest part wasn't the pain," Dallin said. "It was the realization that there were many things I couldn't do anymore … and each day wondering, 'Is this where my recovery stops?"
Amy, on the other hand, remembers the pain all too well. She looked for cars that could fit a wheelchair. She thought about how he loved to play basketball with his brothers and tearfully recalls asking them not to tease him.
"This is stuff he doesn't understand," she said. "I remember every little moment from when I was banging on the car window trying to get him to wake up, and I remember when he quit breathing and the doctors arguing over what was best for him."
In the process of learning how to live again, Amy said Dallin even had to "learn" that he was married to her. He was rather smitten with her but thought for sure she had a boyfriend who would beat him up. Amy told him over and over they were married, and when it finally sunk in, he said, "You mean I am the luckiest man in the world?"
Then there were the conversations about the baby.
Dallin experienced a great deal of memory loss, so Amy also told him they were going to be parents in December.
He stared at her in disbelief and said, "Are you sure?"
News of the baby's arrival spurred Dallin to work even harder because he wanted to be able to drive Amy to the hospital.
"I wanted to remember this," Dallin said. "I wanted to have a memory of the birth."
From then on, Dallin's goal was to get his driver's license back in time for the baby's arrival in December. It was a lofty goal, Amy said, but one he accomplished.
When the baby came, Dallin did indeed drive Amy to the hospital, and while the delivery wasn't exactly as he anticipated, it is a memory he carries with him. The baby, born on Amy's birthday, was a boy. His name — Clay Welling Wengert, after Dr. Welling, who allowed the family to hope.
Dallin and Amy returned to Logan in February, and since then, every detail has fallen perfectly into place. They were able to move into the same apartment complex they were in last year, and Dallin's employer at the sheep farm held his job for him all this time. Dallin is still continuing with speech therapy but is currently taking one online class, with plans to resume his education full time this fall.
Amy has also returned to her previous employer, USU's Western Rural Development Center.
She attributes Dallin's progress to prayers sent from around the world as news of the crash spread quickly.
"I don't know how or why, but we are just so grateful," she said. "I would fall on my knees to express how grateful we are."